As an Amazon Associate I earn from qualifying purchases.
Our Associate portal can be found here
Your air gun is broken, has components missing, and isn't shooting fine or requires modification. It's been through some abuse but isn't wholly trashed, so you believe it'll become functional with some repairs. But how do you go about sourcing relatively affordable Swiss Arms TG-1 replacement parts?
The Swiss Arms TG-1 air rifle possesses high-end features and robust construction, available in different calibers. You can find parts and supplies for replacement or modification, including adapters, barrels, seal kits, plus much more. You'll also have access to small springs, nuts, screws, and levers together with schematics on how to pull everything apart or safely put it back together.
The Swiss Arms TG-1 is the ultimate break barrel rifle for hunting small game or target practice for many airgun shooters. You don't have to break the bank when looking for replacement parts either, as you'll find all the functional features online. Here's a rundown of where to find components for this do-everything, multi-caliber pellet gun.
What Features Set the Swiss Arms TG-1 Air Rifle Apart from Its Counterparts?
When you first set your eye on it, the Swiss Arms TG-1 looks a bit of a flunk. It's a single-shot pellet gun that lacks a traditional stock for a butt chin rest, a feature that sets it aside from other air guns. While not a bad thing, it's the most noticeable aspect of this air rifle. That and the .177 or .22 caliber break barrel that's your fold down to cock and load the next pellet.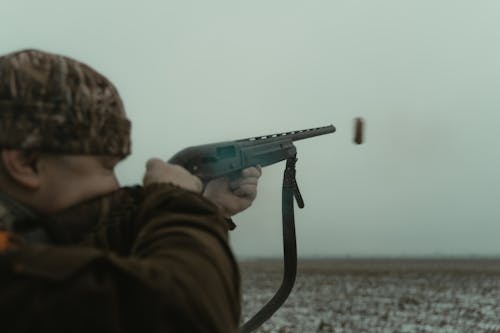 As on any decent air gun, the TG-1s barrel is rifled, which improves accuracy as it helps pellets fly straighter. The rifle weighs less than eight pounds and has an overall length of 42.5 inches. While not overly heavy, it's slightly hefty and under-maneuverable than many air gunners would like. As a break-barrel action, there's little concern about your cylinders running out of pressure.
As long as you keep breaking the barrel and have an unlimited supply of pellets, you can keep shooting the TG-1. Shots in this Swiss Arms air gun are driven by a spring-piston, an essentially old technology in air rifles. That's why this air gun's price is kept affordable, which is valid for its replacement parts. It's also endowed with some robust power, shooting pellets at 1400 feet per second velocity.
For backyard fun and plinking at small to medium critters, this air gun is one of the best in my book. It comes with built-in fiber optics sights, adjustable and red for the rear with blue for the front. That's what makes it easy to line up shots on your targets and acquire them effectively. For noise, the TG-1 is relatively quieter compared to other brand models, middle of the road but audible.
Is the Swiss Arms TG-1 Air Rifle worth Replacing Parts or Modifying?
One of the best features of the Swiss Arms TG-1 and one that invites customization is the unique back end. A comfortable pistol grip allows for better firearm control, and the stock can be adjusted to fit any arm length. While odd-looking, the three-part design also offers a built-in chin rest that's multi-adjustable to complete this configuration.
Just like its reliability and smooth fire, adjustments, customizations, and replacements are easy to make on the TG-1. It also comes with a Swiss Arms 4 X 40mm neon scope that delivers 25% more light than average 32mm scopes. That enables you to achieve precision accuracy, especially in low light situations, making this air gun one of the best hunting rifles for the small, scurrying game.
But that's not to say the Swiss Arms TG-1 is the most accurate, powerful, or silent air rifle available on the market. It's not packed with the latest tech and won't last forever. The first thing to go is usually the open sight optics or mounting plate for the adjustable butt section. Another is the spring compressor, the principal shooting action for this piston air rifle.
You can replace the TG-1s piston seal with a Crossman one that costs around $1.60, fitting perfectly in the compression tube. Deburr sharp edges on the skirt and tube to fit in a new seal without risking damage. For a smooth action with predictably crisp firing points, replace the adjustment screw if you don't want to pull the entire trigger assembly.
What Can I Replace or Modify in the Swiss Arms TG-1?
Shooting the Swiss Arms TG-1 air rifle is fun, but it is working on it for modification or parts replacement. It's a reasonably cheap air gun, selling for $200 new and less than $50 refurbished. The scope, which isn't high quality, is removable, and you can use the included Allen wrench to adjust it or replace it with another. I prefer a Umarex for its incredible sturdiness and target magnification.
If you find the air gun too loud, install a silencer on the muzzle of the TG-1s break barrel for noise reduction. Other features on this rifle you can order replacement parts for include;
Rifled steel barrel
Enhanced two-stage or clean break trigger
Action piston spring
Piston seal
Compressor tube
Polymer thumbhole stock
Dovetail for optics mounting
The Swiss Arms TG-1 air gun comes in .22 and .177 calibers for target practice and small game plinking. You'll get maximum velocities of something like 680 to 1300 fps, and not necessarily the advertised 1400 fps. It's a break barrel loader, so you'll have your hands full when shooting this firearm, but the chin rest and adjustable stock help a lot with comfort. A spring piston power plant ensures you don't have to keep recharging cylinders and never run out of pressure, shooting as long as you've got pellets.
Conclusion
A vast majority of air gunners will easily find Swiss Arms TG-1 replacement parts online. This rifle has enough power to take out small critters from intermediate range, but I wouldn't recommend it for larger varmint. The air gun is of great assistance when you have critters in your backyards, such as birds pecking on your fruits and vegetables. You can also hunt squirrels, upland birds, waterfowl, crows, and pigeons, especially if yours has a .177 caliber barrel.
Amazon and the Amazon logo are trademarks of Amazon.com, Inc, or its affiliates.
36 years old, been hunting and fishing my entire life – love the outdoors, family, and all kinds of hunting and fishing! I have spent thousands of hours hunting hogs and training hunting dogs, but I'm always learning new stuff and really happy to be sharing them with you! hit me up with an email in the contact form if you have any questions.